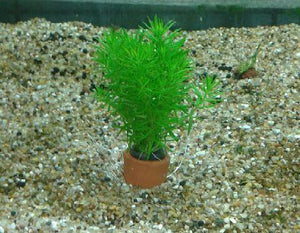 Pogostemon Erectus was originally collected for aquaristical purposes in the western Indian state Maharashtra. The Indian Pogostemon Erectus forms compact groups of bright green, conifer-like stems. Pogostemon Erectus is suitable as a midground plant and creates a wonderful focal point in both smaller and larger groups. Intense light helps the plant to stay compact for a longer period. Moderate growth and vigorous roots. Temperature: 20 - 30 C. PH: 5-7
Hardiness: 
Moderate
Light Needed: 
Medium 
Plant Structure: 
Stem
Family: 
Lamiaceae
Genus: 
Pogostemon
Region: 
Asia
Size: 
8-18cm tall
Growth Rate: 
Moderate
Can Be Grown Emersed: 
Yes
Highly recommended
Excellent fast delivery service with messages update on the status of delivery. The plants received are super healthy. Highly recommended.