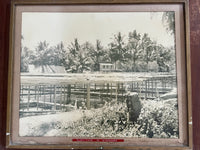 Established in the 1960s, Capricorn Aquarium pioneered the growth and influence of aquatic plants in Singapore. 
Over the years, we have pivoted our focus from exporting internationally to distributing in Singapore itself to promote the local aquarium scene.
We offer a wide variety of aquatic plants, mostly produced at our own farm. At the same time, we constantly source for more varieties and rare species to add to our catalog. Having our own aquatic farm gives us a competitive advantage as we are able to control the quality and freshness of our plants while keeping the cost affordable without compromising the variety offered to our clients and customers. 
Today, Capricorn Aquarium is the leading distributor to most local fish shops covering all parts of Singapore. This creates convenience for hobbyists wherever they stay in Singapore, giving them access to fresh and quality aquatic plants at pocket friendly prices.
For those who love to choose and buy fresh out of pond aquatic plants, drop by our farm at 24 Jalan Lekar come Q1 2023 and you will not be disappointed!
Location
Find us!
24 Jalan Lekar,
Singapore 699964
Walk in not available till Q1 2023
Mondays - 9am to 6pm
Tuesdays to Sundays - 10am to 6pm