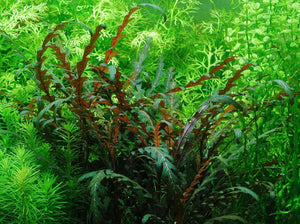 Hygrophila pinnatifida originates from India. It obtains brown, patched leaves on the surface with a distinctive burgundy colour underneath. It forms multiple horizontal shoots if the top shoots are pinched. This will maintain compact and attractive growth. The horizontal side shoots easily attach to both wood and rocks. Growth is moderate, stems 15-40 cm tall and 10-20 cm wide, and the colour is attractive when planted in small groups with a plain background. Intense lighting ensures compact growth due to the plant's slow to medium growth rate. 
Fresh plants!
Plant comes as emersed form, can tell from the fine hair growing on the plants. One ceramic ring comes with 3 stems. I did a cleaning and removed snails and eggs, in quarantine now!
Plant seems smaller than illustrated above. Unsure why, but the some of the leaves are darkening after being put in the aquarium for a week. will monitor and see how.