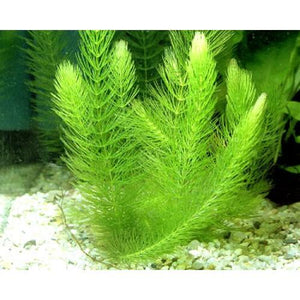 Hornwort is a perennial plant and can thrive for a long period of time if living conditions are favorable. It is hardy and tolerant towards a wide range of water conditions, this makes it capable of surviving in diverse kinds of habitats.
Plant did not survive under my care. there wasn't any roots to the plant when I received them; more prone to float up when planted into aquasoil. stems were yellow as I repotted the plant one week after I got them. Though it does looks great in the tank.
Will always be my place for aquatic plants
Fast Delivery. Fresh and nice plants. best of all, free from pest or snails. Highly recommended!
Nice but had to remove
The plant was received well, and healthy as always. But it was my fault for not researching more as I didn't know they weed out like a Christmas tree. I ended up having to spend some time cleaning up my newly setup tank of its needle leaves.
I guess if you keep it as a floater, then it should be ok as I read these are used often to hide fry.